Description
Material
Reviews
Sam Junctional Tourniquet SJT102 TCCC EMS EMT ALS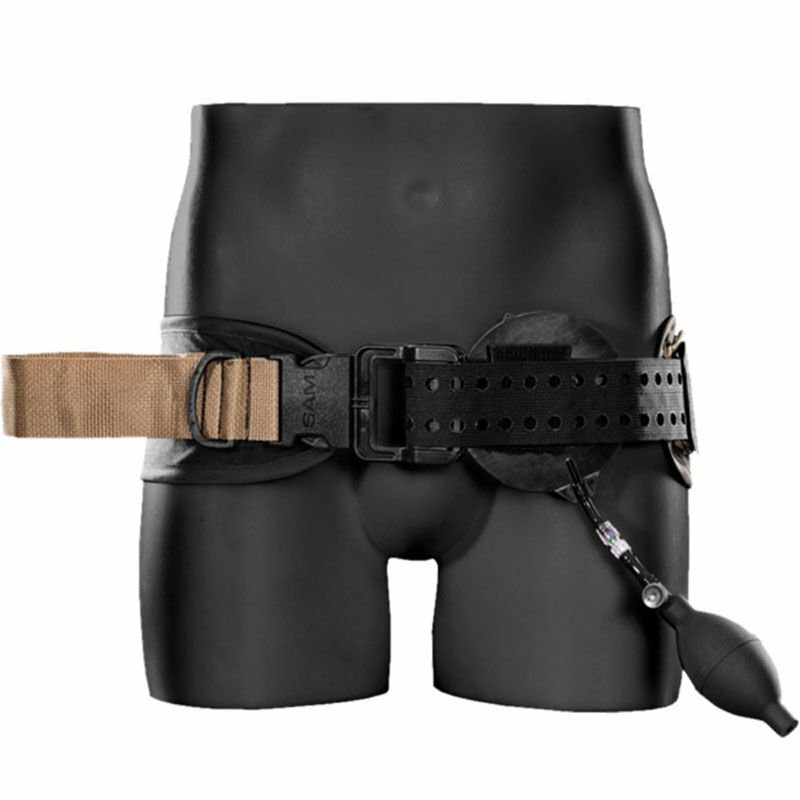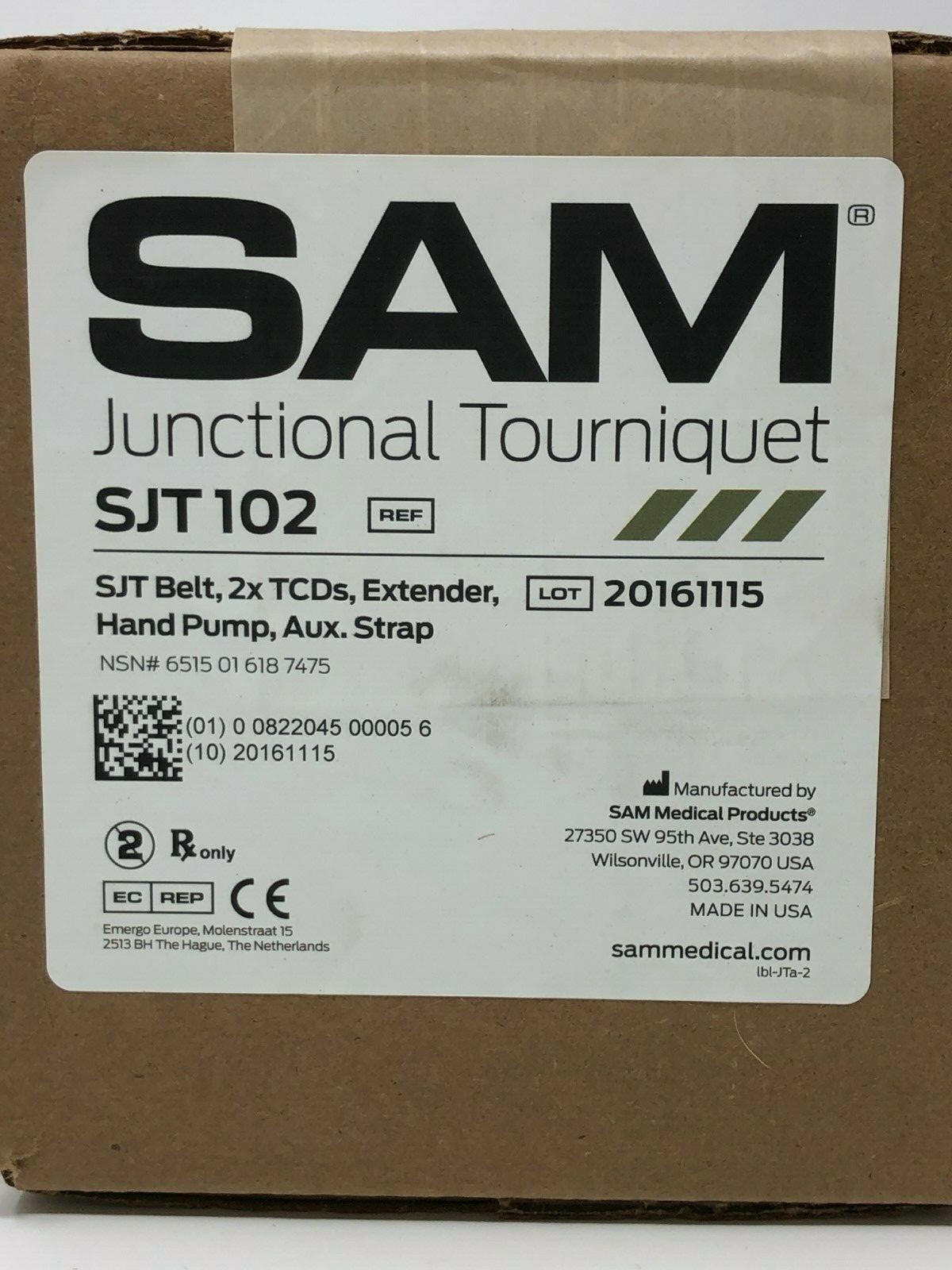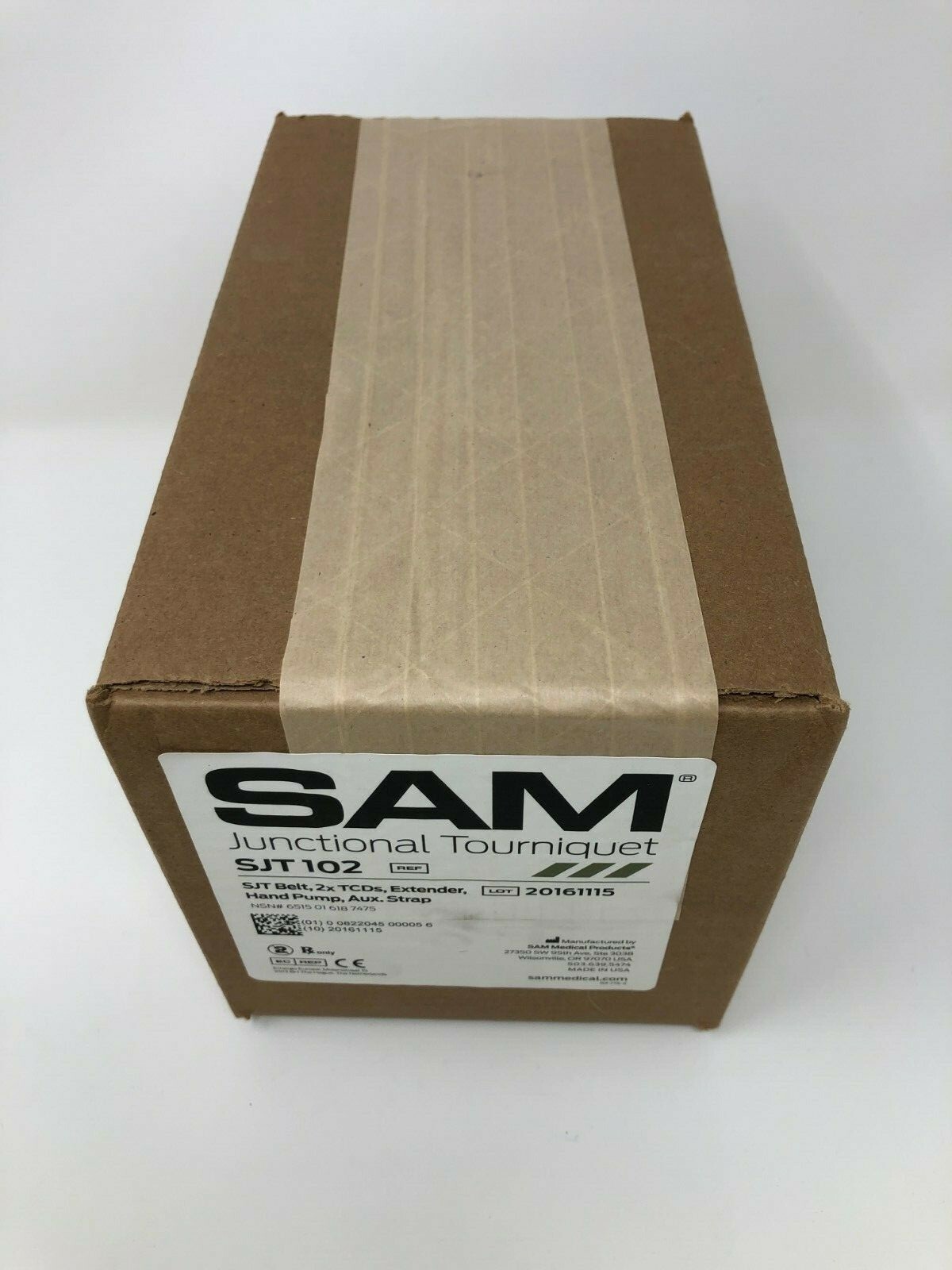 Item Description
One new SAM Medical Products Junctional Tourniquet Model SJT102.                
The SAM Junctional Tourniquet (SJT) for hemorrhage control is designed to control bleeding where tourniquets would not be effective, such as with IED/blast injuries or high-level amputations. With these types of injuries, time is of the essence. The SJT offers a simple design. It is compact, easy to use (only four steps), and quick to apply (typically under 25 seconds). The Target Compression Device (TCD) is placed at or near the injury site and pumped up until the bleeding stops. Two TCDs can be used to occlude blood flow bilaterally if needed. The rugged design ensures that the device stays firmly attached to the patient during transport. Designed to exceed MIL-STD-810g requirements.
In addition, the SJT is the ONLY junctional hemorrhage device FDA cleared to stabilize pelvic fractures. Recent studies indicate that IED-type injuries often have associated pelvic fractures. The patented buckle provides the clinically correct force every time, taking the guesswork out of tightening. This is vital in high-stress environments where over-tightening or under-tightening could potentially be harmful. The SJT is the ONLY junctional hemorrhage device to provide the clinically correct force for pelvic fractures.
The SJT received an EMS World Magazine Top Innovation Award and was named a JEMS Hot Product.
Benefits and Features
Designed to control bleeding in inguinal or axilla areas
FDA cleared to stabilize pelvic fractures
Lightweight (1 lb.,1 oz.) (488g)
Easy to use (4-step application)
Quick application (typically under 25 seconds)
FDA 510(k) cleared and CE mark
NSN: 6515-01-618-7475
About Us
Ma Deuce Trading Post is your online destination for tactical medical supplies and gear.  What do we know about this stuff?  Well, I served in the Marines and spend about 15 years as a cop, mostly in narcotics and SWAT.  Additionally, I've done some private military contracting in Afghanistan.  So what does all this mean?  Nothing.  What's relevant is that in a market saturated with these types of sellers we continue to connect with customers because of our free shipping and returns, competitive prices, and excellent customer service.
Now, what's the name, Ma Deuce Trading Post, all about?  Ma Deuce is the nickname affectionately given to the M2-.50 caliber machine gun.  In the Marines I shot, literally, tens of thousands of rounds on the XM-218 .50 caliber machine gun while I was an aerial gunner on CH-53 helicopters.  Though, that's got nothing to do with the name.  The initials for my given name are MM.  Since I have 2 M's or M2, Ma Deuce as a name just seemed like a perfect fit in my unique way of thinking.
Thank you for checking out our listings.  We hope to be your go-to eBay stop for tactical medical supplies.
Payment
Payment is due upon purchase and we accept PayPal for payments.  You may use your credit or debit card through PayPal to complete your purchase.  As eBay expands their payment options we hope to accept more payment methods as they become available.  For now, PayPal is it.
Shipping
FAST N' FREE, we got it!  We're a Top Rated eBay seller so we not only offer FREE SHIPPING but one day handling time.  Your purchase will ship within one business day of payment receipt, except on Sundays. 
Purchases under 16 ounces will ship United States Postal Service 1st Class.  Purchases over 16 ounces but under 70 pounds may ship United States Postal Service Priority Mail.
Purchases under or over 70 pounds may ship either United Parcel Service (UPS) or Federal Express (FedEx), at our discretion.
International purchases are shipped exclusively through eBay's Global Shipping Program.
We do not ship anything in violation of eBay's policies or any United States Commerce Regulations.
Terms
If you are satisfied with your item and the process then please take a moment to leave us positive feedback. 
If, for any reason, you are not satisfied then please contact us before leaving negative feedback or initiating a return.  Please give us an opportunity to make it right.
Returns
FREE RETURNS, yeah we got'em.  As a Top Seller on eBay we offer FREE RETURNS for 30 days.  What does this mean?  It's means we're going to pay for the return shipping when sending something back.   If, for any reason, you are unhappy with your purchase please contact us before leaving negative feedback or initiating a return so we have the chance to resolve the situation.?
Frooition | No-js Template | eBay design, eBay store design, eBay shop design, eBay template design, eBay listing design (ver:froo_no_js)
This listing is currently undergoing maintenance, we apologise for any inconvenience caused.